Driveway Repairs
Is your driveway full of cracks or holes? Cracks in your driveway can make your property look bad, and they can also pose a safety risk to anyone who walks or parks on it. If you want to ensure that your home or commercial property always looks great and is safe to boot, then you need to resolve driveway cracks and holes right away. For top-notch asphalt driveway repair in the New City area, you can rely on the pros at JC Rockland Paving. No matter how serious the cracks or gaps in your driveway pavement are, you can rest assured that our driveway repairs will meet your needs. To learn more about your options for asphalt patching and driveway crack repair, call or e-mail us today!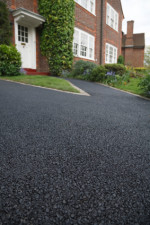 If you have a crumbling, cracked, or uneven driveway, getting it fixed right away is essential if you want to keep your property both attractive and safe. When you hire JC Rockland Paving to repair your asphalt, you can say goodbye to this worrisome damage and look forward to having a beautiful, smooth driving and walking surface once more. Our driveway asphalt repair services may include:
Driveway crack repair: Even tiny cracks in your asphalt can let moisture in, and that can lead to further damage over time. When you turn to us for driveway repairs, we'll fill in these cracks, creating a smooth surface that will protect your driveway from moisture problems to help ensure its longevity.
Asphalt patching: If you have larger problems, such as chips, potholes, or crumbling asphalt, you'll need asphalt patching. Our licensed, bonded, and insured asphalt patch repair professionals will work quickly and carefully to remove damaged asphalt and then apply a patch that will restore smoothness and uniformity to your driveway.
Whether you're in need of minor driveway crack repair or you're dealing with more significant issues, such as potholes, we're the team you can trust for comprehensive asphalt repairs. We'll work quickly to restore your driveway, but we'll also make sure that we don't skip any steps in the driveway asphalt repair process.
Affordable Asphalt Driveway Repair
At JC Rockland Paving, we're committed to offering our customers affordable rates for high-quality service. If you're in need of asphalt repairs for your driveway, don't sweat over how much it is going cost you. Instead, turn to our asphalt driveway repair professionals and get some of the lowest prices available in the New City area. We combine fair prices and outstanding quality!
If you're stressed out because your driveway is damaged, put an end to that frustration today by calling on JC Rockland Paving for asphalt driveway repairs. We offer free estimates for all of our services, so there's no reason to put off getting driveway repairs! Contact us now.
driveway replacement
driveway patching